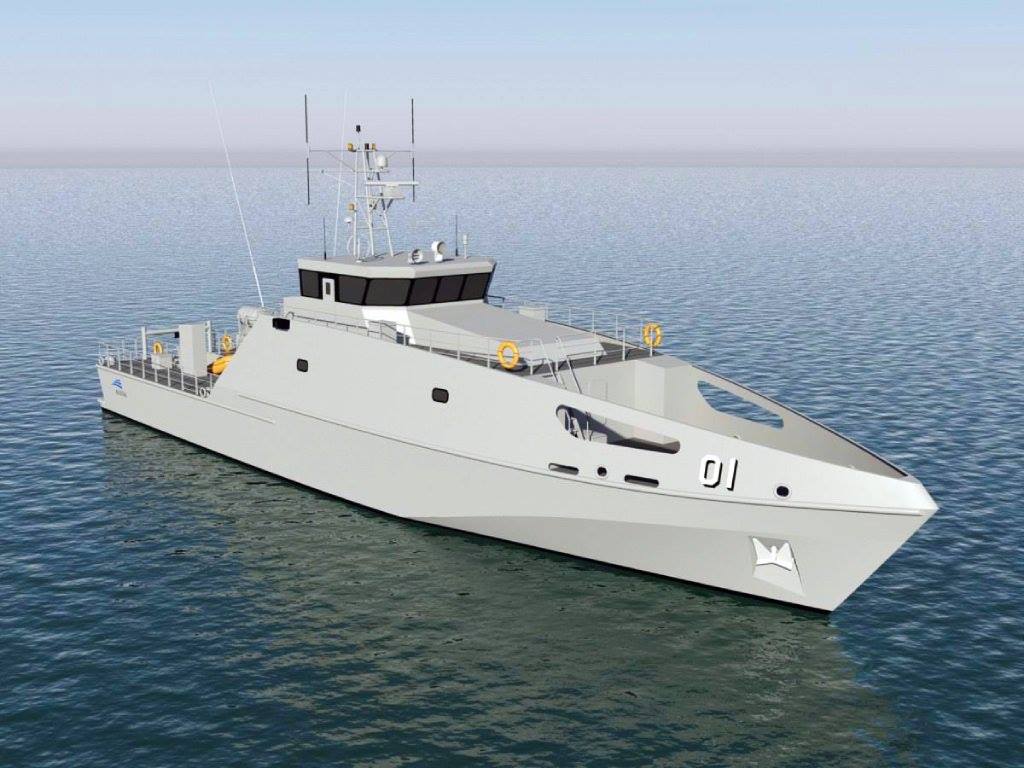 Australia offers Timor-Leste new Patrol Boats
27 April 2016
Australian Navy Commodore Stephen Woodall met with Timor-Leste officials including the Vice Chief of Defence, Brigadier General Filomeno da Paixão de Jesus, and the National Director for Strategic Planning and International Policy at the Ministry of Defence, Mr Martinho Maia Gonçalves, to provide further information about Australia's offer to provide Timor-Leste with a complete patrol boat capability.
Australia is offering to provide two patrol boat vessels to Timor-Leste, along with support to develop its naval capability. The patrol boats are robust vessels, and would be a major improvement to the F-FDTL Naval Component's current fleet. The boats are capable of patrolling to detect illegal fishing by international fishing fleets.
Commodore Woodall said, "patrol boat capability includes not just the vessel itself, but extensive training for the crews, the supporting infrastructure, fuel and spare parts, and a long-term commitment to maintenance. Australia's offer includes all these elements, at little or no cost to Timor-Leste. This is an extension of our very successful program with countries in the Pacific, who have achieved outstanding levels of progress in developing naval capabilities since the program began in 1987."
The Maritime Security Program would provide Timor-Leste with a well-supported, sustainable maritime security capability. Commodore Woodall added that "while Australian advisors would be available to provide advice, the boats would be crewed and operated by the F-FDTL under F-FDTL commanders and support the Government of Timor-Leste's priorities – no Australians would be on the boats unless invited by the F-FDTL".
Australia first offered this program to Timor-Leste in 2014, but the Government has not yet responded to the offer. "I look forward to continuing to discuss the program with the Timor-Leste Government and respond to any remaining questions" Commodore Woodall said.
Timor-Leste and Australia are long-term security partners. The F-FDTL and Australian Defence Force have a close relationship and work side-by-side through the Defence Cooperation Program.
Timor-Leste Soldiers Complete Jungle Warfare Training in Australia
April 2016
Thirty-three Timor-Leste soldiers participated in jungle warfare training at the Combat Training Centre – Jungle Training Wing in Tully, Queensland. The attendees comprise F-FDTL Officers and Senior Non Commissioned Officers from the Navy Fuzileiros, Army Force Training Component and Army Terrestrial Component commanded by Tenente Avantino Virgilio da C. Sarmento.
The soldiers completed a course in Timor-Leste with visiting instructors from the Combat Training Centre before departing for Australia. This training introduced Australian Army tactics, techniques and procedures in a friendly environment on home soil. Most importantly it consolidated the training F-FDTL has been doing in its home units.
The latest Junior Officers' Close Country Instructors Training (JOCCIT) was an intense course that honed junior leadership skills whilst developing instructional skills in a jungle environment. Sending a platoon abroad for training is a significant achievement for the F-FDTL.
The training is an annual event in Australia's ongoing Defence Cooperation Program in Timor-Leste. Australia has worked with the F-FDTL since 2002 to help the Government of Timor-Leste transform the army to a well-developed and modern national defence force.
This training also demonstrates Australia's cooperation with the Portuguese military as both nations support Timor-Leste's defence capability growth.